Welcome!
Cherry Hill Seminary is the leading provider of education and practical training in leadership, ministry, and personal growth in Pagan and Nature-Based spiritualities. We pride ourselves on being an academic and spiritual community, focused on the development of both practical and intuitive skills. We invite you to take a look at our About Us page to learn more about our mission, vision, and values. Want to learn more about our degree offerings or certificate programs? Visit the Academics page to begin your journey with Cherry Hill Seminary – we're thrilled to have you!
---
Summer 2021 Courses
Registration Now Open – Classes Begin May 3!
---
Summer Insights Courses
Four weeks, topic-focused and open to the general public.
---
Upcoming Special Events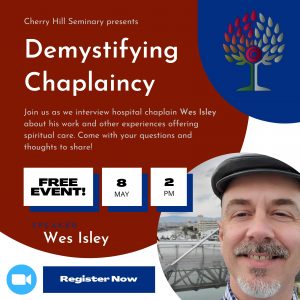 Demystifying Chaplaincy
Join us as we interview hospital chaplain Wes Isley about his work and other experiences offering spiritual care. Come with your questions and thoughts to share!
Saturday, May 8 at 2:00 PM ET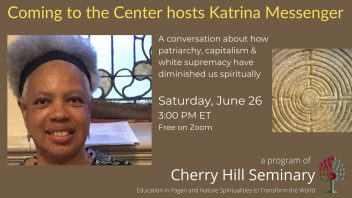 Coming to the Center
Participate in a conversation about how patriarchy, capitalism, and white supremacy have diminished us spiritually. Special guest speaker Katrina Messenger will provide her thoughts during this live interview.
Saturday, June 26 at 3:00 PM ET
Learn more on our Coming to the Center page!