We survived and thrived in 2020, despite all the challenges before us.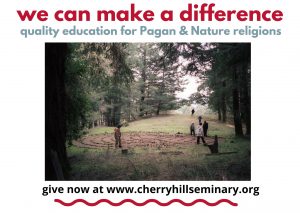 Not just as a center of learning, but we rallied to those challenges as spiritual beings with an appetite to know more, be more, and do more! And now? We believe we can do so much more this year, with your support.
After all, Cherry Hill Seminary is now well into our second decade as the only graduate and continuing education program of its kind in the world, a surprising milestone for a Pagan organization. How has that happened? Not without a great deal of hard work, patience, and a lot of people envisioning a world where we are on equal footing with others in the ministry professions.
So why not make this year –2021– one to remember, one that inspires us, a year of bold, visionary action?  Click here to find out more of what we are up to.
Welcome!
Cherry Hill Seminary is the leading provider of education and practical training in leadership, ministry, and personal growth in Pagan and Nature-Based spiritualities. We pride ourselves on being an academic and spiritual community, focused on the development of both practical and intuitive skills. We invite you to take a look at our About Us page to learn more about our mission, vision, and values. Want to learn more about our degree offerings or certificate programs? Visit the Academics page to begin your journey with Cherry Hill Seminary – we're thrilled to have you!
---
Summer 2021 Courses   Registration Now Open – Classes Begin May 3!
Summer Insights Courses  Four weeks, topic-focused and open to the general public.