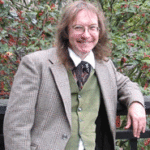 Students wishing to earn credit for attending the Spring Symposium: Sacred Lands and Spiritual Landscapes: Cosmography of the Pagan Soul should register for this one credit online course.  We will read and write on the symposium topic in preparation for informed participation at the event.
In today's post-modern, urbanized world, where everything is a commodity, how and where do Pagans find their sacred places?  How should we protect and maintain these sites?  In colonized worlds, how do we avoid the appropriation of these lands?  If Goddess is immanent in nature, what makes some places more sacred than others?  How is our spirituality shaped by the land and our relationship with the land shaped by our spirituality?
Keynote speaker will be Ronald Hutton, English historian specializing in early modern Britain, British folklore, pre-Christian religion and contemporary Paganism, and author of fourteen books, including Triumph of the Moon, 1999.
More information about presenters, schedule, hotel, and our host, University of South Carolina.
No text to purchase; readings will be posted online. No online meeting; attendance in person at symposium April 12-12 is required. 1 credit.
REGISTER NOW  Note that to participate in and receive credit for an intensive, you must pay for both fees listed on the payment page.
To submit a proposal to present a paper at the symposium