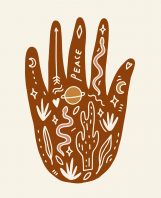 What are the issues raised for Pagans when working as counselor or advocate with socially and culturally diverse populations in secular and interfaith venues? This is a skills development course designed to strengthen multicultural theoretical and awareness. We examine the impact of various cultural factors on personality, value systems, access to services, and spirituality, in order to understand societal changes, norms, mores and differing lifestyles and the influence of culture and social change on family relationships, gender equity, individual adjustment and the ability to advocate for self in secular and interfaith venues. Students examine their own attitudes, belief systems, and behaviors, with the goal of developing cultural competence. SORRY THIS COURSE IS FULL FOR SPRING 2021
P5108 Diversity in Counseling and Advocacy
Diversity in Counseling and Advocacy
Instructor: David Oringderff, Ph.D., and Shane Nelson, M.A.
Course Dates: Jan 11-Apr 25 2021
Class Meetings: Tuesdays, 5:00 PM ET
Required Reading: Humility in Counseling: Engaging Diverse Identities in Therapy by Joshua N. Hook, Ph.D., Don David, Ph.D., Jesse Owen, Ph.D.