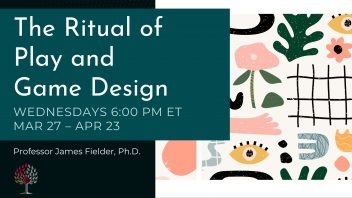 Games and play have, until recently, served important roles in human socialization, education, and ritual.  Students will learn about the influence of games and play on human development with emphasis on ritual, learning through gameplay storytelling, rites of passage, and the concept of the magic circle. In addition, students will learn basic game design principles for secular creativity and spiritual practice.
Required Reading: 
Caillois, Roger. Man, Play and Games. University of Illinois Press, 2001.
Huizinga, Johan, Homo Ludens. A Study of the Play-Element in Culture. Martino Fine Books, 2014
Class Meeting:  Wednesdays 6:00pm EST
Class Dates: Mar 27 – Apr 23
Professor: James Fielder, Ph.D. – (political science, The University of Iowa, 2012) researches emergent political processes inside of game worlds. He has published lectured widely on the psychology and ritual aspects of gameplay, including The Conference on Pagan Studies, Gen Con, Summerland, Enheduanna Journal, and the Journal of Political Science Education. Pigeon also teaches at Colorado State University and is a roleplaying game content creator for Evil Beagle Games. Pigeon is a Non-Officer Director of Ár nDraíocht Féin (ADF), a member of ADF's Denver-based Chokecherry Grove, and founded ADF's Games & Play Special Interest Group.