Read submissions from the Cherry Hill Seminary community – everything from seasonal reflections and course highlights, to staff publications and notes from the Executive Director.
---
Media and More
Cherry Hill Seminary is active across many communities and groups, both physical and virtual. With a dynamic group of staff, students, and partners, there is always something worth reading with CHS!
Sign up to receive our newsletter below.
Press releases and announcements from CHS.
Cherry Hill Seminary honors those who have passed on. Join us as we remember their lives and pay tribute to their spirit!
---
CHS Events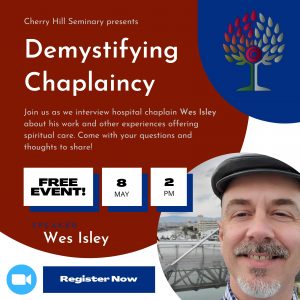 Demystifying Chaplaincy
Join us as we interview hospital chaplain Wes Isley about his work and other experiences offering spiritual care. Come with your questions and thoughts to share!
Saturday, May 8 at 2:00 PM ET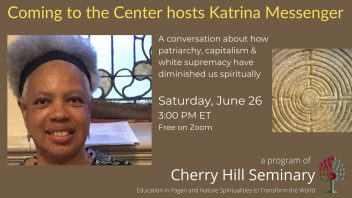 Coming to the Center
Participate in a conversation about how patriarchy, capitalism, and white supremacy have diminished us spiritually. Special guest speaker Katrina Messenger will provide her thoughts during this live interview.
Saturday, June 26 at 3:00 PM ET
Learn more on our Coming to the Center page!