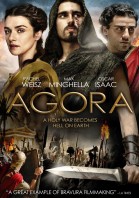 Agora was the movie American theaters were afraid to show at the same time that it was the highest-grossing film of 2009 in Spain. Agora has everything: sexual tension, historical drama, gorgeous Greco-Egyptian sets, and — surprise – religious conflict. At the center of the film is Cherry Hill Seminary's own guardian ancestor, Hypatia of Alexandria.
Invite your friends to join you for a movie night and a dessert group discussion afterwards. We've bought several DVD copies of Agora which we can loan you, plus developed a whole kit of materials to make it super-easy for you as the host. Cap off the evening by inviting your guests to join The Hypatia Society!
Contact us for assistance, and linked below are support materials for holding your own Agora Movie Night party.