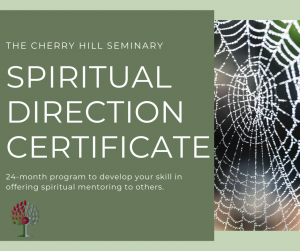 Spiritual Direction is a process typically offered within faith traditions as a part of formation for religious professionals and selected lay leaders. During the last 15 years training has shifted from small, independent programs to comprehensive programs housed in or affiliated with learning institutions such as Cherry Hill Seminary. Our program is unique because it not only helps spiritual directors to be deeply grounded in their own spiritual identity, but also equips them to practice with clients of a variety of (and no) spiritual identities.
This 24-month, fully virtual program is the first of its kind, as currently there are no programs grounded in earth-relating/deities-honoring spiritualities.
Who should study for the Spiritual Direction Certificate?
This CHS program is for seekers – those who are discerning a call to spiritual direction ministry and who wish to explore that call, engage in personal spiritual growth, and enhance the knowledge and skills needed to be a supportive presence for others seeking their own spiritual direction and a meaningful relationship with the divine (however they understand it). In short, this program is for persons who:
Have some theological background
Appreciate learning with others from different faith traditions
Are seeking a deeper spiritual connection in their lives
Have an interest in engaging with a cohort of fellow seekers
Who are ready to commit to the 24-month program
Upon Completion
Participants will receive their Spiritual Direction Certificate upon successful fulfillment of the requirements of the 24 month program. Upon completion of the program, participants also meet the criteria for becoming a part of the UU Spiritual Directors' Network.
Want More Information?
Head to the Spiritual Direction Certificate Program Overview page to learn more about cost, learning format, and what to expect.
NOTE: 2021 admissions are now closed for the year.
Ready to get started?  
Continue to the Spiritual Direction Certificate Admissions Process page.